Not sure why, but I always find myself drawn to stripes.  I've been doing some research online for curtains and I came across these, from Crate and Barrel (Chunky gold and ivory stripes - helloooo!?!)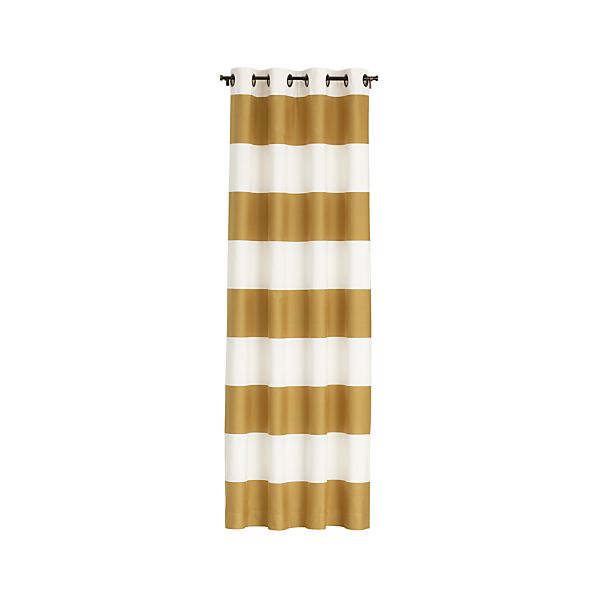 But then I had a better idea...how nice would it be to apply this motif to a wall or small area?
Our victim:
Step 1:  prime the walls.
Step 2: Select your paint colors and paint 2 coats of the lighter color.
Step 3: Prepare your walls for stripes.  I did a few calculations to figure out the ideal stripe thickness, while ensuring that I had enough space for full stripes from top to bottom.  I bought Frog Tape at the local hardware store to mark each stripe - this tape really works best when you're trying to get clean lines without paint bleed.
TIP:  it's easy to get confused about which stripe you're painting with the darker color, so I marked an X on each stripe that was staying white.
TIP 2: Don't forget that you have to tape on the outer dimensions of the stripe.  For example, if you have a 10" stripe and you're painting the darker color as the first stripe at the bottom of the wall, then the first piece of tape goes above the 10" mark, but the 2nd piece goes below the 20" mark, 3rd goes above 30", 4th goes below, etc.
Now we're ready to paint.  I picked a yellow gold from Benjamin Moore.  I pretty much always use the Aura collection because it's the only no VOC water-based paint that exists (as far as I know).  It comes with a hefty price tag, but worth the money in my opinion.
Step 4: paint 2 coats of the darker color on each unmarked alternating stripe.
Step 4: Once the paint is dry, carefully remove the Frog Tape.
The final product:
Next up, I bought a new closet rod, At first, I was thinking of keeping the closet open but once all the coats and shoes went in, I changed my mind very quickly.  So now, I'm on the hunt for closet doors.