Designing a nursery on a tight budget lends itself to doing a lot of research, both online and in store, to find the best deals without compromising beauty. Following my success at finding 2 "pre-loved" dressers  (shown here and here) for the nursery, I thought I'd hit up Kijiji yet again for a sweet yet sophisticated chandelier, in the hopes of adding some golden glamour to the room.
I'd been looking for something like this, without the price tag: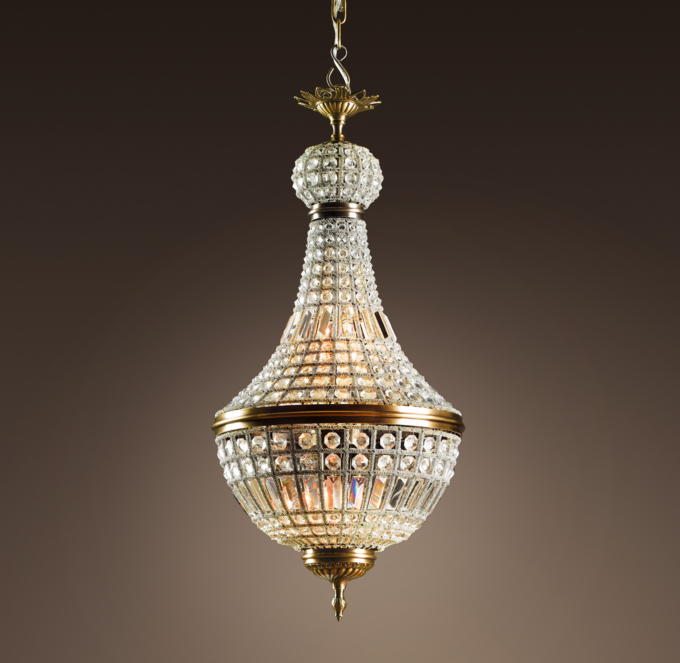 A chandelier in a nursery, you ask?  Why yes, I don't see anything wrong with that.  I've seen chandeliers in bathrooms, nurseries - just about any room, and each time it turns out beautifully.
Like here:
via projecthome
via Design Dazzle
After a couple of weeks of browsing, I found this chandelier for $140, which I negotiated down to $100 buckeroos.  The fixture was in perfect condition, but I was not so keen on the bright yellow gold color. I was hoping to find more of a rich brass.
I hereby dub thee Le Tacky Gold:
Enter DIY land.  I did a bit more research and found a couple of techniques to paint over metal and get the antique gold look I was hoping for.  So off I went to Michaels and picked up a tube of gold acrylic paint, another one of burnt umber and a clear lacquer spray.
I first took off all the crystals and bulbs and set them aside.  
Next up, I - uh, I mean Adam - made a makeshift structure to hang the chandelier base for painting.
The next thing I should have done (but didn't) was scuff up the metal to allow the paint to adhere better to the metal.  I think this would have prevented the paint from easily scratching off.  I skipped this step because a) I got lazy and b) I figured a chandelier wouldn't be manhandled very much other than during installation.
I painted 2 coats of the gold paint, letting each coat dry for several hours.  As you can see, this gold is already much nicer than the original, but I wanted to antique it a bit.
Here's where the bunt umber comes in.  I put a little bit of the burnt umber on top of the gold and immediately wiped it off with a paper towel.  By doing this, the umber color made its way into the nooks and crannies, but larger surface areas remained gold.  And this, my friends, is how you create an antique finish. So simple.
Once the burnt umber paint was dry, the final step was to spray the base with a clear lacquer to seal the paint.  Being pregnant and all, I left the smelly fumes job to the hubby (love you, Adam!).
Bling back on, Adam installed the light fixture and here's the end result:
Nice, huh?  I think it looks perfect in the room, and at nighttime, the crystals cast a beautiful pattern on the ceiling.  LOVE!!