Hello, from sunny and hot hot hot Florida!  My hubby and I are on a long-awaited vacation, with the goal of  doing a whole lotta nothing.  There's nothing as good as sitting by the pool, reading a book, and recharging our batteries.  But, being in hurricane season, the pockets of thundershowers have forced us to go indoors every so often, leaving us no other choice but to find something else to do.  Ahem. "Honeyyyyy, can we go shopping? Pleeease?"  No really, the rain is SUCH a shame....Every trip to Florida is incomplete without a trip to Anthropologie, muahaha.  Look what I found!!
 I grabbed 10 of these puppies.  Mini bowls with Ikat pattern and gold rim?  Helloooo!
I also got this Rosemary and Mint scented hand soap and cream, perfect for our future powder room!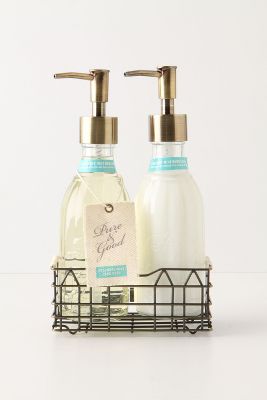 And the shopping isn't over yet...We'll be leisurely driving back up to Montreal, and our first stop will be in Savannah Georgia.  Adam doesn't know what he's in for.  I've mapped out our vintage furniture and lighting itinerary - oops!