Heya, A couple of weeks ago, we snatched up some uber affordable subway tiles for our kitchen backsplash (in a weak attempt to compensate for my expensive taste in all other areas of the kitchen design).  I picked a warm white to match with the cabinets, walls, and countertop.  White overload, right?  Well, that's where all the kitchen 'jewels' will come into play: smokin' hot pendants, bursts of color from the glass cabinet display,  and....DARK grout for the backsplash.  Dark grout on light colored tiles has been trending for a while now, and I've been itching for a chance to do this in my kitchen.  Not a strong enough argument?  How about this:  light grout colors stain and dirty easily. Dark ones won't.
Still not convinced?  I think these kitchens will change your mind:
S.R. Gambrel via Cococozy
S.R. Gambrel via Cococozy
via Restless Oasis
via House and Home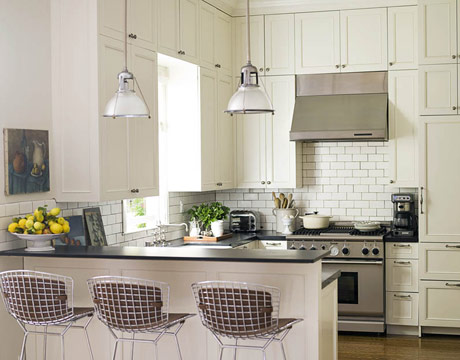 via Sketch 42
 Last weekend, I spent some time figuring out which tile pattern to use and came up with a few options.
Option 1:  Herringbone pattern.  I'm sorta obsessed with this pattern, but I ended up nixing it for 2 reasons: 1. high level of effort required and 2. tile waste due to all the angled cuts near the edges.  So sad right now.
Option 2: Classic subway tile pattern.
Option 3: Classic pattern, with a twist.  Each row is slightly offset from the other.
I think I'm leaning towards option 2, but what do you all think?  I'd love to hear your comments!