I've been scouring sites for some pre-loved furniture for the nursery.  About a month or two ago, I found a dresser for $35.  Yes, $35.  Here she is:
The dresser is a perfect size for the back wall of the nursery.  I plan to use it both for storage, and as a changing table.  Initially, I wanted to paint it because the wood had a few dings, but the more and more I looked at it (and the less and less time I have before the baby arrives), the more I realized how perfect the wood color is.  So, I decided to keep it as is, but make a few improvements.
First up, security.  Right now, the drawers come out completely if I open them all the way.  I'll need to add some stoppers to each drawer to make sure they don't fall on the little one's head.  I *think* I'll be able to find that at the local home hardware store.
Next, time to hardware it up.  I am planning on having some brass accents in the room, and I think here would be a perfect start.  I found some vintage brass pulls on Ebay that would go beautifully.  Originally, they were only available in lots of 6 or 12, but I contacted the seller and managed to get a custom auction for the number of handles I needed.  Lesson learned here (thanks to Adam) - don't be afraid to contact the seller with special requests - you have nothing to lose.  I was originally willing to pay for 12 handles, wait 6 days for the auction to end, and have them shipped to somewhere in the US (listing showed US shipping only).  Instead, one quick email and I managed to get the number of handles I needed, shipped directly to Canada, and the seller added a 'buy it now' option to the custom listing.  Ha!!  They will be mine. Oh yes, they will be mine.
This photo doesn't really do these puppies justice, but here's what I'm waiting to arrive any day now:

Third, the inside of the drawers are plain unfinished wood.  I haven't decided yet, but if time allows, I'd like to get drawer liners to jazz it up.
Some options I've been contemplating: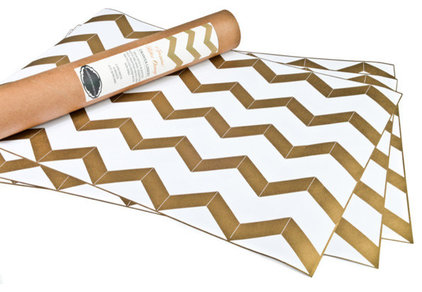 More gold!  I think these liners from Hammocks & High Tea are gorgeous but I'm a little worried that I may tire of the chevron print that is now EVERYWHERE.
I also came across Chic Shelf Paper, a site designed specificially for drawer liners.  They typically come in rolls, but you can even have them pre-cut to size for you.
I think this one is adorable:
Or I could go geometric, with something like this:
What do you think?  Worth the effort or not?
Finally, I'll need to get a changing pad that will sit on the dresser (I'll also need to find a way to fasten it to the dresser so that it doesn't slip - velcro perhaps?).  There are a multitude of options for changing pad covers.  I'm told I'll need 2 or 3, so I may just buy a few on Etsy or some online shop.
Some cute ones I've found so far:
$16.99, via Target.com
$24.95, via baby earth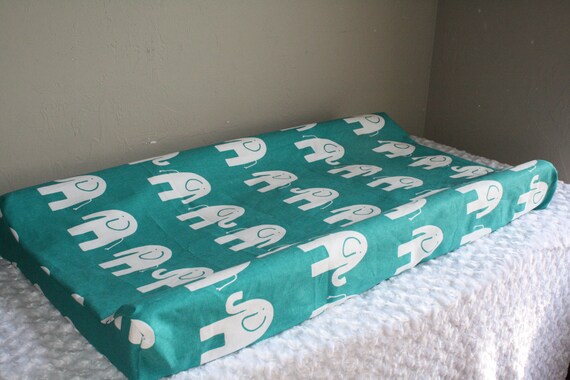 $25, via DesignsbyChristyS on Etsy
(I like the fabric on this one, but I think I'd want something more taut).
So....?  Which options do you like best?  What do you think so far?