For the longest time, I've wanted to have a navy blue dining room. I've used a light color palette in every other room of the house, but I really feel that going dark and dramatic in the dining room is the way to go. Along the way, I've been told that Navy is too dark, that it'll make the room look smaller, and that the color blue is an appetite suppressant. But I'm stubborn and I'm convinced that if executed properly, this dining room could be spectacular. It looks like I'm not the only one who thinks that could work: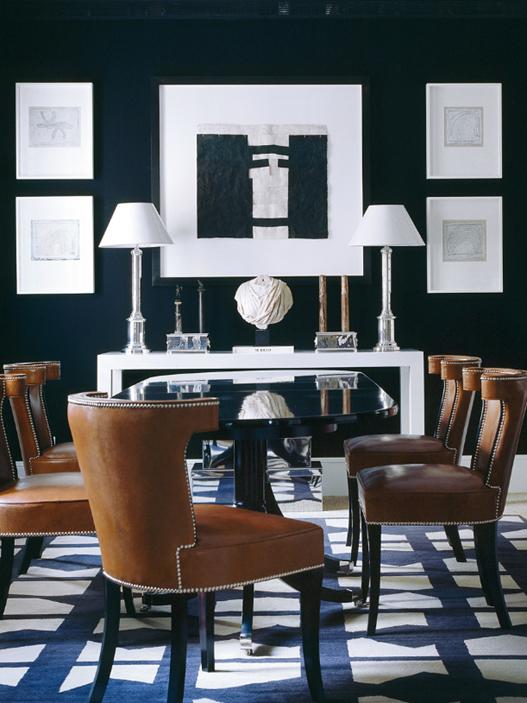 There's one common theme in all of these rooms, and it's that they all use bright artwork, furniture and accessories to liven up the space and create a contrast with the dark walls. So that too, will be my plan. A brass chandelier above the dining table, large bright artwork, light chairs with upholstered seats, geometric patterned curtains, an area rug and perhaps a large mirror for some bling.
This past week, I painted the dining room.  Once again, I used my trusted Benjamin Moore Aura Paint in Newburyport blue.  I think it'll look fantastic once the cream colored baseboards are installed.  Here's a quick peek, but keep in mind that it's still very much bling-free...
I initially wanted to replace the dining room chairs with more comfortable upholstered chairs, but once I painted the room I realized that the light wood tone contrasted beautifully with the navy walls. Change of plans, then. I think I'm going to upholster the seats of each chair and also eventually buy 2 upholstered chairs for the heads of the table.
For the seat cushions, I like these options: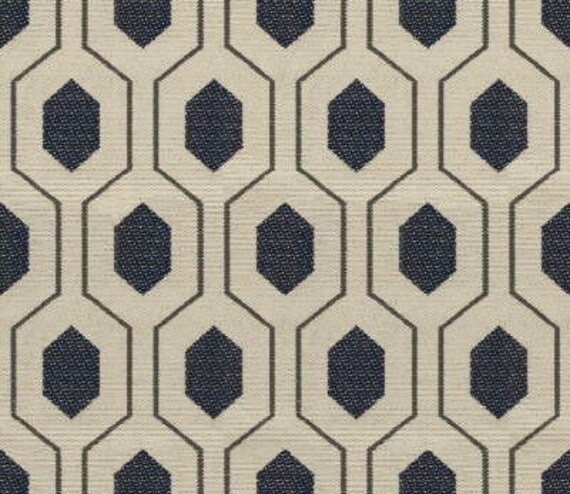 For the brass chandelier, I've found a few online tutorials on how to make your own. Another DIY? C'mon - did you think I could pass up another opportunity to build something myself???
Here are a couple of examples of chandeliers that you can make yourself: